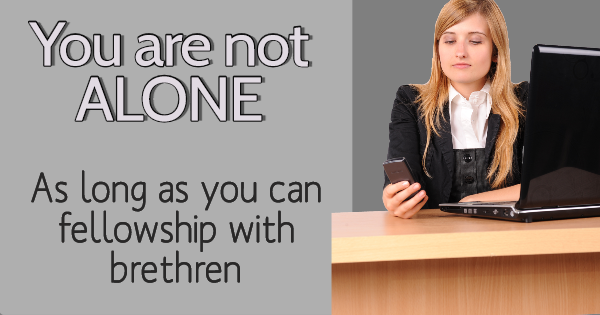 You are not Alone!
(Heb 10:25)  Not forsaking the assembling of ourselves together, as the manner of some is; but exhorting one another: and so much the more, as ye see the day approaching.
We see the above verse of scripture as our mandate for the Body of Christ. It is our hope to provide you with tools and resources to be able to reach out to local home fellowships in your area to find a way to be able to assemble with your brethren that we might support one another as the day approaches.
It has been estimated by the Church of God Network that there may be as many as 40 to 60 thousand individuals with backgrounds from the various Church of God groups and/or congregations. Many are not able to find congregations to assemble with. We intend to make this website a resource center to not only help you find local churches at home but to help you establish a home fellowship should that be needed.
There will be links out to many of our groups and the efforts they are making to feed and support the body of Christ.
The Blog Posts you are reading now will give you weekly updates and ideas on how and why to proceed in finding or building a home fellowship. There is power and safety in fellowship with your brethren, The Home Church environment is the place to be to allow God's Spirit more free reign in your life.
Many of us are scattered to the winds and are being subjected to doctrinal chaos as well as personal discouragement, But you are not alone. There are many who suffer as well and are at risk. These walking wounded if you will have suffered at the hands of a ministry that does not understand the damage they are doing as well as from brethren, so called who might be more accurately described as goats rather than sheep.
Mat_25:33  And he shall set the sheep on his right hand, but the goats on the left.
But no matter the reason for your separation there are ways available now to fellowship again with the Body of Christ either in Home Fellowships or even the new Online Meeting Rooms where you can join in a group environment from your home while seeing and interacting with in real time other brethren in these online rooms.
We need the strength and encouragement that comes from local fellowship with God's People. Read again the scripture at the beginning of this post and you will see that one of the main reasons Paul says that we should not forsake the assembling of ourselves together is for the encouragement that comes from this local fellowship. And we are going to need it more and more and the Day draws closer.
So keep checking in with us as we develop this tool for you. And remember always that you are NOT Alone!​
The articles linked below are designed to show you fully the Government that God designed for Mankind. As you study these pages you will find that the Home Church is the best model to gather together to worship our God. That this form of Government will in fact release God's Holy Spirit to work among us as individuals and will enhance our ability to use the Spirit within us to learn what God wants us to understand and to live as Christ would have us live.