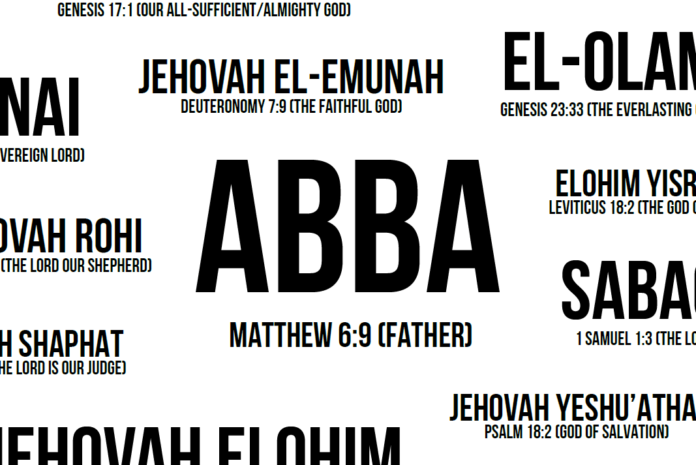 God's Character Expressed in His Names
A Study Outline
I. Our heavenly Father inspired the writers of the Bible to tell us to walk in the
footsteps of Jesus Christ. I John 2:6. "He who says he abides in Him ought himself also to walk just as He walked."
II. We know that to understand the Father is to understand Jesus Christ, and vise-versa, since Christ came to do the will of the Father.
John 5:19. "Then Jesus answered and said to them, Most assuredly, I say to you,

the Son can do nothing of Himself, but what He sees the Father do; for whatever He does, the Son also does in like manner."

John 17:21. "That they all may be one, as You, Father, are in Me, and I in You; that

they also may be one in Us, that the world may believe that You sent Me."
III.  God has revealed Himself more and more as history has progressed.
Exodus 6:3. "And I appeared unto Abraham, unto Isaac, and unto Jacob by the name of God Almighty [El Shaddai], but by My name Jehovah [Yahweh] was I not known to them".
His name was first revealed to Moses at Mt. Sinai, at the burning bush (Exodus 3:13-14), but as time passed more and more of His character was revealed by His various titles.
IV. God expresses His nature throughout His word in the names that are used to express who He is, and we associate Him with those Names. [The names below usually do not indicate whether they are referring to the Father or to the Son.]
       A. Major Old Testament names for God
Elohim = God, His power and might.  Genesis 1:1; Psalm 19:1.
Adonai = Lord, a reference to the lordship of God.  Malachi 1:6
Yahweh [or Jehovah] = a reference to God's divine salvation.  Genesis 2:4.
Yahweh Maccaddeshem = the Lord our sanctifier, Exodus 31:13.
Yahweh Rohi = the Lord my shepherd.  Psalm 23:1.
Yahweh Shammah = the Lord who is present.  Ezekiel 48:35.
Yahweh Rapha = the Lord our leader.  Exodus 15:26.
Yahweh Tsidkenu = the Lord our righteousness.  Jeremiah 23:6.
Yahweh Jireh = the Lord will provide.  Genesis 22:13-14.
Yahweh Nissi = the Lord our banner.  Exodus 17:15.
Yahweh Shalom = the Lord is peace.  Judges 6:24.
Yahweh Sabbaoth = the Lord of Hosts.  Isaiah 6:1-3.
El Elyon = the most high God.  Genesis 14:17; Isaiah 14:13-14.
El Roi = the strong one who sees.  Genesis 16:13.
El Shaddai = the God of the mountians, or mighty God.  Genesis 17:1; Psalm 91:1.
El Olam = the everlasting God.  Isaiah 40:28-31.
       B. Other Old Testament names for God.
Attiyq Yowm = ancient of days.  Daniel 7:9.
Mushiyach = anointed one.  Psalm 2:2.
Yahweh Zroah = arm of the Lord.  Isaiah 53:1.
Tsemach = branch, sprout.  Jeremiah 33:15.
Chathan = bridegroom.  Isaiah 62:5.
Ebed = chosen one, servant.  Isaiah 42:1
Tsavah = commander.  Isaiah 55:4.
Pinnah Eben = cornerstone.  Isaiah 28:16.
Yaats = counselor.  Isaiah 9:6
Chemdah Gowy = desired of all nations.  Haggai 2:7.
Qedmah Elohim = Eternal God.  Deuteronomy 33:27.
Ad Ab = everlasting Father.  Isaiah 9:6
Kabac = fuller's soap.  Malachi 3:2.
Demamah Daq Qowl = gentle whisper (Still Small Voice).  I Kings 19:12.
El Roly = God Who sees me.  Genesis 16:13.
Nahag = guide.  Psalm 48:14.
Qadosh Israel = Holy One of Israel.  Isaiah 49:7.
Hayah = I Am.  Exodus 3:14; John 8:58.
Immanuwel = God With Us.  Isaiah 7:14.
Qanna = jealous.  Exodus 34:14
Yahweh Shaphat = judge.  Isaiah 33:22; Acts 10:42.
Yahweh Melek = King.  Isaiah 33:22; Zechariah 9:9.
Yahweh Chaqaq = lawgiver.  Isaiah 33:22.
Nagid = leader.  Isaiah 55:4.
Yahweh Nesher = like an eagle.  Deuteronomy 32:11.
Showshannah Emeq = lily of the valleys.  Song of Solomon 2:1.
Yahweh Tsedeq = Lord our righteousness.  Jeremiah 23:6.
Yahweh Chaciyd = merciful God.  Jeremiah 3:12.
Malak Beriyth = messenger of the covenant.  Malachi 3:1.
El Gibbor = mighty God.  Isaiah 9:6.
Elyown = Most High.  Isaiah 83:18.
Yatsar = potter.  Isaiah 64:8.
Sar Shalom = Prince of peace.  Isaiah 9:6
Taher = purifier.  Malachi 3:3.
Gaal = Redeemer.  Job 19:25.
Tsaraph Esh = refiner's fire.  Malachi 3:2.
Chabatstseleth Sharown = rose of Sharon.  Song of Solomon 2:1.
Mashal Israel = ruler over Israel.  Micah 5:2.
Shebet = scepter.  Numbers 24:17.
Ebed = servant.  Isaiah 42:1.
Magen = shield.  Genesis 15:1.
Ruwach Elohim = Spirit of God.  Genesis 1:2.
Kowkah = star.  Numbers 24:17.
Shemesh Tsedaqah = Sun of righteousness.  Malachi 4:2.
Ed = witness.  Isaiah 55:4.
Pele = wonderful.  Isaiah 9:6.
 
       C. New Testament names for God.
Abba.  Romans 8:15.
Advocate.  I John 2:1.
Alpha.  Revelation 22:13.
Amen.  Revelation 3:14.
Author of life.  Acts 3:15.
Author of our faith.  Hebrews 12:2
Beginning.  Revelation 21:6.
Blessed and Holy Ruler.  I Timothy 6:15.
Bread of God.  John 6:33.
Bread of life.  John 6:35.
Bright Morning Star.  Revelation 22:16.
Chief Shepherd.  I Peter 5:4.
Christ (Anointed).  Matthew 22:42.
Christ of God.  Luke 9:20.
Christ the Lord.  Luke 2:11.
Christ, Son of the Living God.  Matthew 16:16.
Comforter.  John 14:26.
Consolation of Israel.  Luke 2:25.
Consuming fire.  Deuteronomy 4:24; Hebrews 12:29.
Creator.  I Peter 4:19.
Deliverer.  Romans 11:26.
Door.  John 10:7.
End.  Revelation 21:6.
Faithful and true.  Revelation 19:11.
Faithful witness.  Revelation 1:5.
Father.  Matthew 6:9.
Firstborn.  Romans 8:29; Revelation 1:5; Colossians 1:15.
Firstfruits.  I Corinthians 15:20-23.
Foundation.  I Corinthians 3:11.
Friend of tax collectors and sinners.  Matthew 11:19.
Gift of God.  John 4:10.
God over all.  Romans 9:5.
Good shepherd.  John 10:11.
Great High Priest.  Hebrews 4:14.
Great shepherd.  Hebrews 13:20.
Head of the body.  Colossians 1:18.
Head of the Church.  Ephesians 5:23.
Heir of all things.  Hebrews 1:2.
High Priest.  Hebrews 3:1.
High Priest forever.  Hebrews 6:20.
Holy One.  Acts 2:27.
Holy Spirit.  John 16:26.
Hope.  Titus 2:13.
Horn of salvation.  Luke 1:69.
Image of God.  II Corinthians 4:4.
Image of His Person.  Hebrews 1:3.
Jesus (Savior).  Matthew 1:21; Acts 4:10.  Iesous in Greek.
Jesus Christ our Lord.  Romans 6:23.
King Eternal.  I Timothy 1:17.
King of Kings.  I Timothy 6:15.
King of the Ages.  Revelation 15:3.
Lamb of God.  John 1:29.
Last (second) Adam.  I Corinthians 15:45.
Life.  John 14:6.
Light of the world.  John 8:12.
Lion of the tribe of Judah.  Revelation 5:5.
Living stone.  I Peter 2:4.
Living water.  John 4:10.
Lord.  John 13:13.
Lord God Almighty.  Revelation 15:3.
Lord Jesus Christ.  I Corinthians 15:57.
Lord of all.  Acts 10:36.
Lord of glory.  I Corinthians 2:8.
Lord of Lords.  I Timothy 6:15.
Love.  I John 4:8.
Master.  Luke 5:5.
Mediator.  I Timothy 2:5.
Messiah.  John 4:25.
Nazarene.  Matthew 2:23.
Offspring of David.  Revelation 22:16.
Omega.  Revelation 22:13.
Only begotten Son.  John 1:18.
Our Passover Lamb.  I Corinthians 5:7.
Our peace.  Ephesians 2:14.
Power of God.  I Corinthians 1:24.
Prophet.  Malachi 3:3.
Rabboni (Teacher).  John 20:16.
Radiance of God's glory.  Hebrews 1:3.
Resurrection.  John 11:25.
Righteous One.  I John 2:1.
Rock.  I Corinthians 10:4.
Root of David.  Revelation 22:16.
Ruler of God's creation.  Revelation 3:14.
Ruler over kings of the earth.  Revelation 1:5.
Savior.  Luke 2:11.
Shepherd of our souls.  I Peter 2:25.
Son of David.  Matthew 1:1
Son of God.  Matthew 27:54.
Son of Man.  Matthew 8:20.
Son of the Most High.  Luke 1:32.
Source.  Hebrews 5:9.
Stone.  I Peter 2:8.
Teacher.  John 13:13.
True light.  John 1:9.
True witness.  Revelation 3:14.
Truth.  John 14:6.
Vine.  John 15:5.
Way.  John 14:6.
Wisdom of God.  I Corinthians 1:24.
Word.  John 1:1.
Word of God.  Revelation 19:13. 
V. God challenges us to even be able to describe what His name is; His pronounced name is not what is really important, but WHAT HE DOES! Proverbs 30:4.  "Who has ascended up into heaven, or descended?  Who has gathered the wind in His fists?  Who has bound the waters in a garment?  Who has established all the ends of the earth?  What is His name, and what is His Son's name, if you can tell?"
VI. Our directions for developing character are the same as what is expressed in these names! His nature is love in its absolutely pure form.
Galatians 5:22-23. "But the fruit of the Spirit is love, joy, peace, longsuffering, kindness, goodness, faithfulness, gentleness, self-control.  Against such there is no law."
Isaiah 66:2. "For all those things My hand has made, and all those things exist, says the Lord.  But on this one will I look:  on him who is poor and of a contrite spirit, and who trembles at My word."
It is clear that God is a "family", and we are begotten into that family.

Ephesians 3:14-15. "For this reason I bow my knees to the Father of our Lord Jesus Christ, from whom the whole family in heaven and earth is named."
We are begotten sons of the Father. I Corinthians 4:15.  "For though you might have ten thousand instructors in Christ, yet you do not have many fathers; for in Christ Jesus I have begotten you through the gospel."
Our Father chastens us as children because He love us — Hebrews 12:6 — yet not beyond what we are able to bear. I Corinthians 10:13.

He always gives us the benefit of the doubt in our weaknesses. I Corinthians 13:7.  "… bears all things, believes all things, hopes all things, endures all things."
He is absolutely true to His word, and will not compromise with fulfilling His promises. Psalm 138:2.  "I will worship toward Your holy temple, and praise Your Name for Your lovingkindness and for Your truth, for You have magnified Your word above Your Name."
He overlooks our sins when we repent, and makes us clean.

II Chronicles 7:14. "If My people who are called by My name will humble themselves, and pray and seek My face, and turn from their wicked ways, then I will hear from heaven, and will forgive their sin and heal their land."
Revelation 19:8. "And to her it was granted to be arrayed in fine linen, clean and bright, for the fine linen is the righteous acts of the saints."
Hebrews 1:3. "Who being the brightness of His glory and the express image of His person, and upholding all things by the word of His power, when He had by Himself purged our sins, sat down at the right hand of the Majesty on high,"

Our Father in heaven may get angry at us when we sin, but He is very patient and will forget our sins forever once He calls us and washes us clean. Deuteronomy 4:15-31.