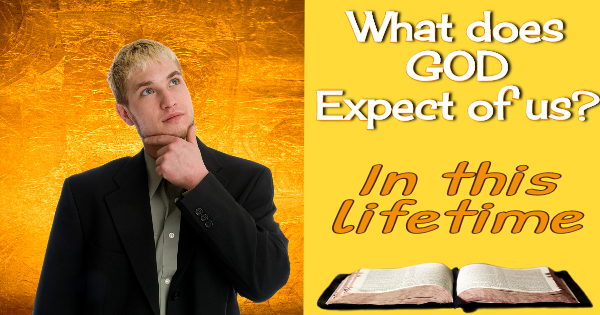 What Does God Expect of Us in This Life?
A Study Outline
I. None of us in today's ecclesia, like in centuries past, have really left much of a mark in this world.
A. The records of the saints in history have been cleverly hidden by Satan's historians: history as written has been called "… a set of lies agreed upon" (Napoleon Bonaparte).
B. We are all limited by the human power that God gives us, and we are weak: "The spirit is willing but the flesh is week" (Matthew 26:41).
C. Yet, we see Jesus Christ as the One individual who turned the entire world upside down, and we are His brothers (Romans 8:29), and are to walk in His footsteps (I John 2:6). He did this in spite of this society being under Satan's sway (II Corinthians 4:4; Ephesians 2:2).
II. What has our heavenly Father declared that we need to do in this life, whether we leave a noticeable mark on it or not?
A. As "called out ones" from this society [Greek ecclesia], we are "… a chosen generation, a royal priesthood, a holy nation, a peculiar people, that you should show forth the praises of Him who has called you out of darkness into His marvelous light; who once were not a people but are now the people of God, who had not obtained mercy but now have obtained mercy. Beloved, I beg you as sojourners and pilgrims, abstain from fleshly lusts which war against the soul, having your conduct honorable among the Gentiles, that when they speak against you as evildoers, they may, by your good works which they observe, glorify God in the day of visitation." (I Peter 2:9-12).
B. We are now a separate people, "the people of God", and as such have special responsibilities.
C. In all cases we are designated to be servants, to our Creator, to the ecclesia, and to those in the world (Matthew 20:25-28).
D. Our "spiritual vocation" is well-defined.
1. Our essential functions are embedded within the spirit of God that inhabits us. I Corinthians 12:1-30. Note especially verses 7-11 and 18-20. "But the manifestation of the spirit is given to each one for the profit of all; for to one is given the word of wisdom through the spirit, to another the word of knowledge through the same spirit, to another faith by the same spirit, to another gifts of healings by the same spirit, to another the working of miracles, to another prophecy, to another discerning of spirits, to another different kinds of tongues, to another the interpretation of tongues. But one and the same spirit works all these things, distributing to each one individually as He wills…. But now God has set the members, each one of them, in the body just as He pleased. And if they were all one member, where would the body be? But now indeed there are many members, yet one body."
2. Walk uprightly, work righteousness, and speak the truth. Psalm 15:1-5. "Lord, who may abide in Your tabernacle? Who may dwell in Your holy hill? He who walks uprightly, and works righteousness, and speaks the truth in his heart; he who does not backbite with his tongue, nor does evil to his neighbor, nor does he take up a reproach against his friend; in whose eyes a vile person is despised, but he honors those who fear the Lord; he who swears to his own hurt and does not change; he who does not put out his money at usury, nor does he take a bribe against the innocent. He who does these things shall never be moved."
3. Do good to all, but especially to the brethren. Galatians 6:7-10. "Do not be deceived, God is not mocked; for whatever a man sows, that he will also reap. For he who sows to his flesh will of the flesh reap corruption, but he who sows to the Spirit will of the Spirit reap if we do not lose heart. Therefore, as we have opportunity, let us do good to all, especially to those who are of the household of faith."
4. The "whole duty" of man was described by Solomon. Ecclesiastes 12:13. "Let us hear the conclusion of the whole matter: Fear God and keep His commandments, for this is the whole duty of man."
E. The "servile work" we need to do to earn a living is not so well defined in Scripture.
1. We ought to have a good idea of what our talents and abilities are, and work primarily in these areas.
2. Paul admonishes us to work with our hands. I Thessalonians 4:10-11. "And indeed you do so toward all the brethren who are in all Macedonia. But we urge you, brethren, that you increase more and more; that you also aspire to lead a quiet life, to mind your own business, and to work with your own hands, as we commanded you." Paul himself was a tentmaker. Acts 18:3.
3. Solomon tells us to eat, drink, and enjoy our work. Ecclesiastes 2:24-26. "Nothing is better for a man than that he should eat and drink, and that his soul should enjoy good in his labor. This also, I saw, was from the hand of God. For who can eat, or who can have enjoyment more than I? For God gives wisdom and knowledge and joy to a man who is good in His sight, but to the sinner He gives the work of gathering and collecting, that he may give to him who is good before God. This also is vanity and grasping for wind."
III. We can be certain that even though our personal impact on the world may be minimal, we still are having an effect, at least to the extent our Father wants us to, for He has placed us in life where He wants us.
A. We cannot do again what Christ already has done, but we can do even greater things than He did (John 14:12)! We cannot measure these "greater things" by the world's standards.
B. Our futures are magnificent beyond our wildest imaginations, to be kings and priests in the coming age. Revelation 5:10. "And have made us kings and priests to our God; and we shall reign on the earth."
Revelation 20:4. "And I saw thrones, and they sat on them, and judgment was committed to them. Then I saw the souls of those who had been beheaded for their witness to Jesus and for the word of God, who had not worshiped the beast or his image, and had not received his mark on their foreheads or on their hands. And they lived and reigned with Christ for a thousand years."
C. If Jesus Christ said we are lights shinning forth in a darkened world, then we must be having an effect in spite of our limitations. Matthew 5:14-16. "You are the light of the world. A city that is set on a hill cannot be hidden. Nor do they light a lamp and put it under a basket, but on a lampstand, and it gives light to all who are in the house. Let your light so shine before men, that they may see your good works and glorify your Father in heaven."
D. Paul tells us to be continually looking forward, pressing on towards the prize of our high calling. Philippians 3:13-14.
E. We can be absolutely sure that every last bit of effort we put into serving our Creator will not go unnoticed, and while we are never going to be great in this world, our spirit names and abilities to accomplish good things will be beyond comprehension in the coming age … the future for which we were born. I Corinthians 2:9-10.
Romans 8:22-23.